"Prevent, treat and achieve a visual reduction in scarring with this soothing and healing protective gel."
Dr. Zenovia
5 Star
Scar Gel Treatment
SKU: 8015
Read more...
Unique, medical grade silicone-based formula helps skin recover by hydrating and creating a protective barrier for an optimal healing environment. Powered by a blend of exfoliating enzymes, Bromelain and Papain, to encourage cell renewal and resurface the skin helping to remove uneven pigmentation and renew skin's natural complexion.  This unique formula provides hydrating, soothing and skin softening benefits, creating the optimal healing environment to help minimize scarring.
Apply gel directly to scar and gently massage into skin. For new scars, apply 2-3 times daily. For older scars, apply 2 times daily. Do not use on open wounds. 
Silicone Gel - provides a protective hydration halo allowing for skin to restore skin barrier balance.
Bromelain - an enzyme designed to soften the appearance of surface texture caused by common skin disruptions resulting from surgery, injury, burns, acne, insect bites, cuts and scrapes.
Papain - is a calming enzyme compound designed to reduce the appearance of skin swelling and redness.
REG-ulate360 Complex™ – Featuring medical-grade actives including Resveratrol, Vitamin E, Green Tea, Bakuchiol, and a cutting-edge, plant-derived phytoestrogen known as Genistein, this proprietary technology helps restore the appearance of hormonally imbalanced skin to an optimal healthy state.
Glycerin, Dimethicone, Bakuchiol, Cucumis Sativus (Cucumber) Fruit Extract, Camellia Sinensis (Green Tea) Polyphenols, Punica Granatum Sterols, Bromelain, Papain, Allantoin, Tocopherol, Soy Isoflavones, Genistein, Tocopheryl Acetate, Purified Water, Resveratrol, HEA/Sodium Acryloyldimethyltaurate/Stearath-20 Methacrylate Copolymer, C13-C14 Isoparaffin, Polysorbate 80, Decyl Glucoside, Phenoxyethanol
Gently apply daily to your scar, and always follow up with an SPF!
1. 100% Agree it reduced skin irritation
2. 100% Agree it improved the appearance of discoloration from acne scars
3. 100% Agree skin looks clearer
Notes: *Based on questionnaire results from independent 4-week Patient Trials of Scar Gel Treatment
Disclaimer: While these products can help treat Acne, for more severe cases, Dr. Zenovia recommends seeing a Board-Certified Dermatologist.
"Prevent, treat and achieve a visual reduction in scarring with this soothing and healing protective gel."
Dr. Zenovia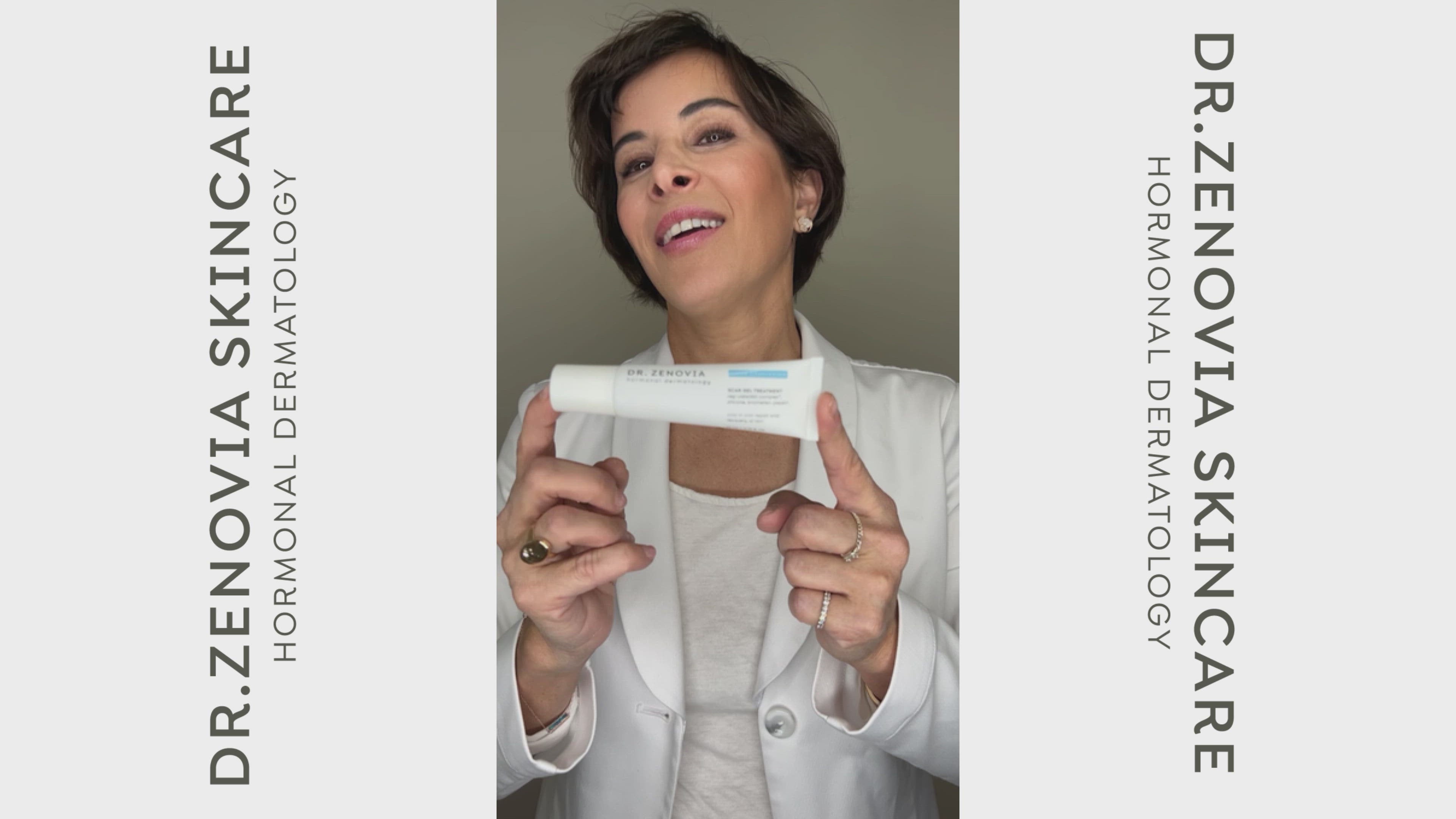 Video
What she said...
Dr. Zenovia shares how to prevent acne scars.